The warm weather we've been experiencing lately has gotten me ready for summer and all the fun games that come with it! The great part about this game is it can be played outdoors in warm weather but also in a gym during the winter. At CentriKid, we love this game so much that we play it with our entire summer staff at our training week! We think your kids will love playing it too. 3-D Kickball can be a good opportunity to let the kids run around and experience a little bit of controlled chaos even during the cold months.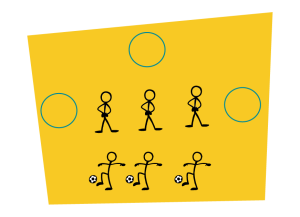 How to play:
Divide players into two teams. Choose three pitchers from the fielding team. Ask the kicking team to line up behind the three kicking spots. To play, all three pitchers should roll the balls simultaneously. Once a player kicks a ball, he or she may run to any base he or she chooses.
Runners may run the bases in any order, but they must touch all three bases before returning home to score. runners may touch any of the three kicking spots to score. Runners are not required to advance, and each base may accommodate multiple runners. Rummers may not steal bases and must stop running once the pitchers have recovered all three balls.
The fielding team may force a runner out by catching the ball or by tagging him or her with the ball (below the waist). The number of outs per inning is not limited. Instead turn over innings every two minutes.
Debrief:
One of our promises to you at CentriKid is that we will root everything in scripture, and we love to connect everything back to God's Word at CentriKid. I've provided a spiritual connection for you to use as you play this game.
Read John 14:6
Ask: How is this game different from normal kickball? (You could run the bases in any order)
Say: In this game, there are multiple ways to make it back to home plate and score, but in life, there is only one way to be rescued from our sin and have a relationship with God. Jesus came to earth, lived a perfect life, died on the cross, and rose again to rescue us. Because He is still alive today, we can trust him to save us and give us life. He is the Way, the Truth, and the Life.
Bonus info:
The game explanation and debrief were adapted from our Recreation: rooted in scripture book. If you didn't get one last year, you can be sure to grab one this summer at a CentriKid Camp Store. It has this game and many more, broken down into explanation, debrief, and what equipment you will need. Hope you enjoy this game, and be on the lookout for it this summer at CentriKid!