From the moment church groups get off the bus until they drive away at the end of the week, there are promises that every CentriKid team looks to uphold. They have become a part of our culture, but they are not just for camp. They can play a major role in  presenting the gospel in your children's ministry every week.
Root EVERYTHING in scripture
We believe that the Word of God should be at the forefront of every program, activity, and game at CentriKid camp. We love to have fun and go crazy, but it is all to get children excited for the gospel. As children's ministers, creating an atmosphere that is centered around the study of the Bible and teaching it to children should be the most important part of any programming. Kids love playing games, making crafts, and singing songs. Let's be honest, I love all of that too! However, when we are able to connect these fun events to the scripture they take so much more away from Sunday morning than just a good time. They will see that the Bible is God's truth in their lives.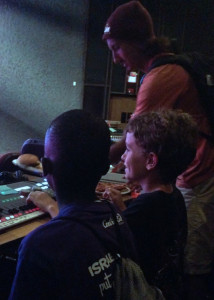 Ministry through relationships
At camp, CentriKid staffers see meal times and Hang Time as another opportunity to build relationships with kids. The conversations that happen during these times are sometimes more powerful than the conversations that happen during worship response time. Building these relationships create many avenues of conversation that can lead to presenting the gospel and learning how best to pray for and love on these kids. Working in a kid's ministry, you have an amazing opportunity to create these relationships all year. Knowing the kids who are in your Sunday School class or in children's church will create an environment that stimulates discussion. By loving these kids through a meaningful relationship, we are able to show them a small glimpse of the amazing love that God has for us.
Kid friendly programming
CentriKid would not be CentriKid if it were not for the high energy I Can't Waits, crazy recreation games, and the amazing times of worship that kids and adults can experience at camp. We know that Biblical truths such as the Holy Spirit, the Tabernacle, and God's redemption are not always the easiest things for kid's to understand, but at camp it is our promise that all of the programming and Bible studies will be created with kids in mind. Kids from 3rd to 6th grade will enjoy the games and songs and they will also be taught the Bible at a level that is understandable to them and is applicable to their lives. Every week, you have an amazing opportunity to share the Word of God with kids so that they can apply it to their lives now and grow in their relationship with God.
Through a culture based in scripture, relationships, and fun, staffers are able to minister and love kids throughout the summer. How have you used the CentriKid culture in your church's ministry?