Just in case your social media wasn't blown up with hilarious pictures of kids ministry leaders and their kids, you may not know that yesterday was National OMC Day! We had a blast celebrating the greatest game in the history of world with all of our CentriKid friends!
Over the course of the day, we posted CentriKid OMC Day tasks on our Instagram, Twitter, and Facebook pages. All day, amazing friend posted pictures and videos of them completing tasks and having a blast. Check out some pictures below of the fun!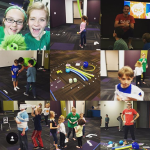 We also had some AMAZING churches who celebrated #NationalOMCDay by playing OMC at church last night! Check out who they are below!  If you played OMC at your church last night, please send us your name and mailing address (and a photo if you have it) to centrikid@lifeway.com, and we'll add you to the list!
Parkway Baptist Church (Smyrna, TN)
First Baptist Church Goodlettsville (Tennessee)
Faith Family Church (Finksburg, Maryland)
Mount Olive Baptist Church (Moultrie, GA)
First Baptist Church Baton Rouge (Lousiana)
Pine Grove Baptist Church (Picayune, MS)
As we said before, whoever completed the most tasks on National OMC Day will be receiving a very special surprise in the mail! We had so many people complete tons of tasks, it was impossible to choose just one winner. So we chose three! If your name is below, please email us your mailing address to centrikid@lifeway.com.
#NationalOMCDay Winners
David Jennings — FBC Baton Rouge
Marcia Watkins — Ebenezer Baptist Church
Jeremy Carroll- First Tuscaloosa
THANK YOU everyone who participated in National OMC Day next year! While we love OMC and chaos that comes with it, remember that the reason we play OMC back to camp is to always connect it back to the Gospel of Jesus Christ. That's what matters most, and we are blessed to be able to share the gospel through such a fun game every week at camp!
If you'd like to register for CentriKid to get in on the fun of OMC, check out our dates and locations here or call 1-877-CAMP-123!